The Specialty Kitchens management team works closely with our customers and employees to bring you the highest quality design and installation services available.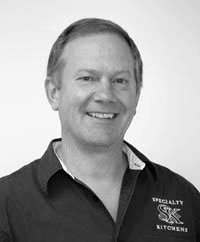 Scott Dionne
Owner
This email address is being protected from spambots. You need JavaScript enabled to view it.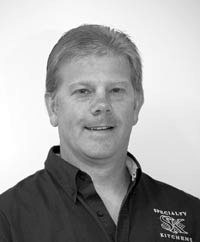 Duane Dionne
Operations Manager/Project Manager
This email address is being protected from spambots. You need JavaScript enabled to view it.
Experience: Hired 1986, Construction, cabinetry installation & finish work
Duane has been with Specialty Kitchens, Inc. since its beginning back in 1986. Working in the kitchen and bath industry since 1986, Duane brings a thorough working knowledge of operations to our team. When he is not scheduling and managing our install crews, he assists the sales department with construction pricing and technical designs.

Duane lives in Litchfield, with his wife, Jennifer, their daughters Demi and Lauren, their black lab, Lightning, and too many chickens.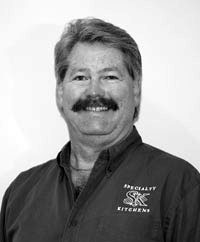 Mike Hendricks
Project Manager
This email address is being protected from spambots. You need JavaScript enabled to view it.
Experience: Hired 2010
Mike Hendricks, CKD is the Project Manager for the remodel projects. Mike's experience as an award winning and published kitchen and bath designer since 1996 makes him a well-respected leader in the industry. Having come to Specialty Kitchen from the Design/Build side of construction, he brings an added benefit of understanding of the implementation of the design element with the construction of the home. His design ideas range from traditional New England to the very contemporary.

He moved to New Hampshire in the winter of '96 from New Mexico. While in New Mexico he ran the 3 retail showrooms for a manufacturer of custom solid wood home furnishings. He loves spending time with family and friends and entertaining with meals from any recipe that shows how it's supposed to look when it's done.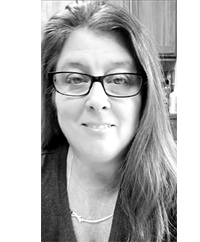 Deborah Cote
Sales & Marketing Manager
This email address is being protected from spambots. You need JavaScript enabled to view it.
Experience: Hire date 1993

Debi joined Specialty Kitchens in 1993 as our first kitchen/bath designer working alongside Scott Dionne, the owner. She is currently responsible for managing the Sales Department as well as directing all marketing initiatives. She also oversees all aspects of the showroom including the research and implantation of all product lines. Being in the kitchen and bath field since 1993, she brings a wealth of industry knowledge and experience to the Company.

Debi operates a small antique & collectibles booth at a busy local antique shop. She enjoys looking for items for her booth at local flea markets, yard sales and antique auctions.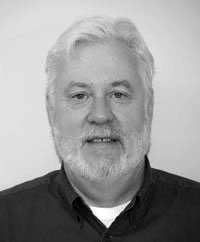 David Ballou
Design Manager
This email address is being protected from spambots. You need JavaScript enabled to view it.
Experience: Hired 1998
Education: Certified Kitchen Designer (1996)
Awards: Cabico Project of the Month (8 times), Home Builders and Remodelers Association of New Hampshire's Cornerstone Award (2 times)

David oversees all design work for Specialty Kitchens and audits all non-scope job orders. His job is to make sure that everything for your kitchen/bathroom design, to the knobs on your cabinets meets the SKI standards for accuracy and quality. David is also the liaison between Specialty Kitchens and the various cabinet vendors. David is married to the love of his life and has two wonderful children. His daughter just graduated high school and his son is a recent UNH Graduate. David is a performing musician singer, songwriter, session musician and an avid amateur photographer with a love of art in general. He feels that kitchen design is an art form of its own and he really has a love for his work. He also enjoys all things outdoors because nature is our finest form of art. David comes from a long line of builders and learned the trade from his father and grandfather.